Defend yourself and your assets against potentially expensive legal claims.
Anyone who reads or watches the news knows about the surging numbers of civil lawsuits. Some are filed against businesses - but many target individuals. An Umbrella Insurance policy supplements auto, home and boat policies and can protect you from severe financial loss if you're faced with litigation.
Empower Insurance Services LLC can obtain quotes from numerous top-rated insurance carriers to help you get competitive rates and adequate protection
An extra $1 million or more in liability coverage can protect assets like your home, auto, boat, wages, and investments
You can also get protection against claims for libel, slander, defamation of character, and invasion of privacy
Covers defense costs, attorney fees and other charges resulting from lawsuits
Empower Federal Credit Union is a full-service financial institution serving members throughout New York State.
Empowering you to make the best financial decisions.
Explore valuable tools and education to support your unique financial journey.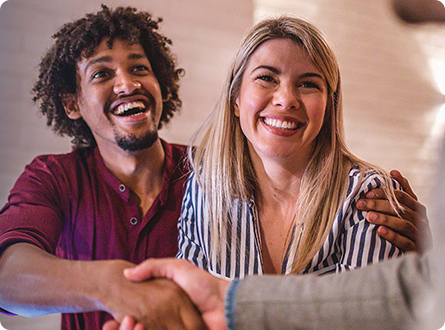 Financial Counseling
Free one-to-one sessions that can get your finances moving in the right direction.
Empower Insurance Services LLC (formerly known as Empower Associated Services Inc.) is affiliated with Empower Federal Credit Union (EFCU). The purchase of insurance from Empower Insurance Services LLC is not required to obtain credit or other services from Empower FCU. Insurance products are not credit union deposits and are not NCUA insured, nor are they obligations of or guaranteed by Empower FCU. Not all insurance products are available in all states. Call for availability in your state.