Here's how to move money to and from non-Empower accounts.
No matter how happy you are with Empower FCU accounts and services, we understand you might still have deposits at other financial institutions. And you may want to transfer funds between your Empower accounts and outside accounts. Below is a user-friendly, step-by-step guide on how to make fast electronic transfers using Online Banking tools.
Options include scheduling one-time and recurring transfers
Transactions are subject to Reg D, the federal regulation that places limits on the number of transfers or withdrawals credit union members can make from savings, club, and Money Market accounts.
External accounts are added from one of two places: The Transfer Tab → More Actions by selecting Add Account → External account: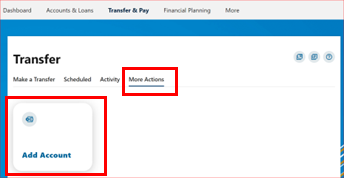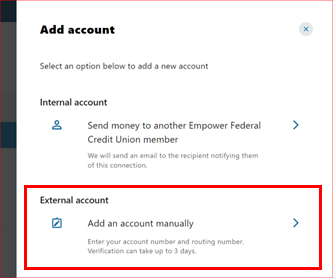 The Accounts tab under Settings by selecting Link an External Account → Add an account to transfer money → External account:



You will need to have the account type (Savings, checking), Routing Number, and Account Number.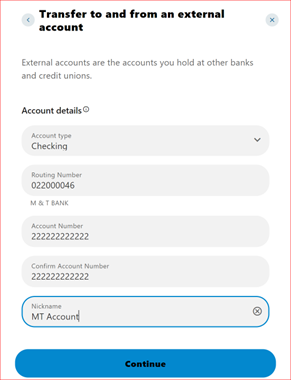 You will also be prompted with an additional Multi Factor Authentication security screen.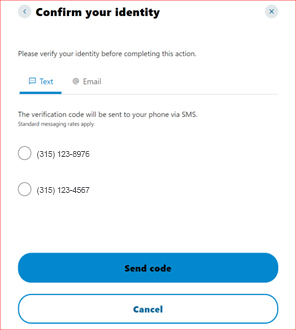 After completing these steps, the following message will display: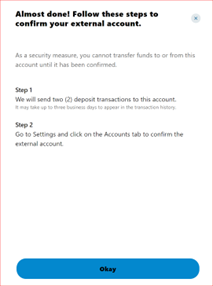 Once the request to add an external account is submitted, two ACH micro-deposits (credits) and a corresponding debit (for the total of the credits) will be made into that account.

A message is displayed on the Dashboard when there are pending external accounts:



External accounts also appear in the Member's Account tab → Settings:


The external accounts will show one of the following statuses:
Pending - Pending confirmation of trial deposits
Open - Trial deposits have been confirmed
Suspended – You have unsuccessfully tried to confirm micro-deposit amounts too many times or not confirmed within timeframe
Blocked - Blocked from using a particular routing number/ account number combination
From here, you can confirm, edit, or delete the account. To confirm the account, enter the dollar amounts of the two ACH micro-deposits made into the receiving account.

Once you select confirm, you will need to enter the Trial Deposit amounts: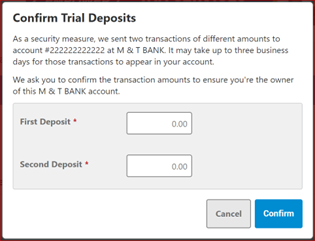 Once confirmed, external accounts will appear in the transfer widget.
Edit the color and nickname of the external ACH accounts on the Account tab under Settings. This screen also allows you to specify if the account is to be hidden from display.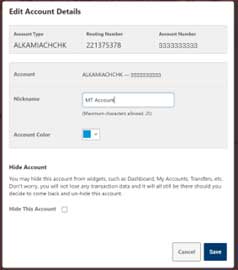 Once confirmed, external account(s) will appear in the account lists under the Transfer Tab → From Account and To Account fields. External accounts can be used just like normal checking and savings accounts to transfer funds and to make internal or external loan payments. Transferring funds from one external account to another external account is not allowed.

Scheduled ACH transfer requests appear in the Scheduled tab of the Transfers widget.


Consumer Online Banking Limits:
| | | |
| --- | --- | --- |
| Daily | Weekly | Monthly |
| $2,000 | $10,000 | $10,000 |
Business Online Banking Limits:
| | | |
| --- | --- | --- |
| Daily | Weekly | Monthly |
| $25,000 | $100,000 | $100,000 |
No, Empower does not charge a fee to process an external transfer.
The cut-off time for a standard External Transfer is noon on business days, Monday through Friday. After this time, all transfers will be processed and cannot be cancelled. When sending an External Transfer, if you are after the cut-off time – expect one additional business day for delivery.
At this time, only savings and checking-type accounts can be set up. The following accounts are not accessible for external transfers:
Individual Retirement Accounts (IRAs)
Custodial and/or Trust Accounts
Share Certificate
Loan Accounts
At this time, external transfers being sent to another institution cannot be originated from an Empower loan account. However, members can transfer funds from an account at another institution into a loan account at Empower. Other restrictions may apply. Transactions are subject to Reg D, the federal regulation that places certain limits on the number of transfers or withdrawals members can make from their savings, club, and Money Market accounts.
No, you can only transfer funds to and from accounts within the U.S.
Instead of using paper checks, ACH (Automated Clearing House) entries are created and transmitted electronically, making transactions quicker, safer, and easier. Empower submits the transactions to the ACH network to transfer funds between the accounts specified. The ACH then securely completes the transaction.
Login to Online Banking to view account activity and verify the transaction is complete.
The sign up process is immediate. Initial set-up of an external account will typically take 2-3 business days.
When adding an account from another financial institution, we must confirm ownership of the account. To do that, we will send two small credit deposits to your other institution's account and request that they send us a corresponding debit, or withdrawal from your account, in the same amount. Once you see the deposits in your external account, you will need to login to Online Banking to verify the micro deposits.
To verify the micro-deposits:
Expect to see the micro-deposits within 2-3 business days
Log into your source account to review the deposit amounts made. Write down the amounts for reference.
You will receive a message on your Empower Online Banking Dashboard asking you to confirm. If you enter the micro-deposit amounts and they match our records, the account will be enabled for External Transfers.
Empower Federal Credit Union is a full-service financial institution serving members throughout New York State.
Empowering you to make the best financial decisions.
Explore valuable tools and education to support your unique financial journey.