We're always looking for ways to improve your Online and Mobile Banking experience.
At Empower Federal Credit Union, we know that managing your money is only one of many things you do each day. And so we're constantly upgrading our digital banking tools to make them as user-friendly, fast and efficient as possible.
November 2023 Highlights
NSF/Courtesy Pay Description: Updated the description for NSF/Courtesy Pay fees to include a 'NSF/Courtesy Pay' header, making these transactions easier to identify in online banking. Please note that this update only impacts these transactions going forward and will not change the description of any NSF/Courtesy Pay fees in the past.
Before Change:
After Change:
Release Highlights:
Workflow Verbiage: Ensures that the verbiage displayed on the Registration, Forgot Username, and Forgot Password workflows is consistent for both consumer and business members.

Transaction Codes: Recategorized transaction codes to ensure they are properly mapped and displayed correctly in online banking.

Transaction Type Clean Up: Modified transaction types to ensure that all are properly mapped and displayed correctly to members in online banking.

Account Details: Enhanced the account detail fields to ensure that all relevant fields display in a consistent order on all Savings, Checking, Certificate, and IRA accounts.

Share Certificates: Updated the account type label from "Certificates of Deposit" to "Share Certificate" on all certificate accounts.

Deposit Account Dividends: Replaced the word "Interest" with "Dividend" on all deposit products and added a "Dividends Paid Last Year" field.

Removed Available Balance: The available balance field was removed on all Certificate, IRA, and Installment Loan accounts.
Credit Score Notifications
With the Mobile 4009 Release, a Notification Count now appears in the Credit Score card at the bottom of the mobile app.  When clicking on the Notifications icon, you will be directly taken to the Savvy Money Credit Score screen where you can review these alerts.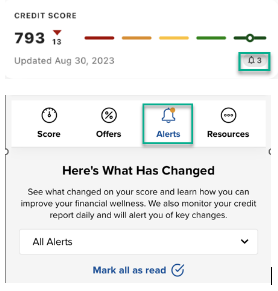 Password Reset Time Limit
The time limit for password resets is changing from 24 hours to 10 minutes.  This will help increase security around password resets.
SMS Text Verification Code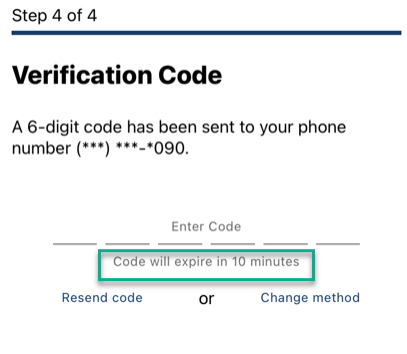 Email Verification Code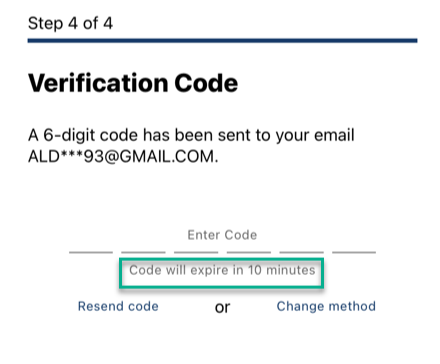 Release Highlights:
Credit Score – Recent enhancement to present a Credit Score card to members via mobile banking. This enhancement is currently available to Apple device users. The enhancement will become available to Android device users with the mobile 4009 release.

Account Masking – Recent enhancement applied to mask the Account Number and display the last 4-digits with an "eye" icon for toggling the account masking on and off. (Live as of 8/22)
Available Balance Alert – In addition to Current Balance alerts, our members will be provided the ability to receive alerts on their Available Balance.

External Transfer Suspended ACH Account Trash Can - Alkami is now providing the functionality to delete External Accounts in a Suspended status for member self-service to create a better User Experience.
Design Updates
Design updates applied to the
Dashboard
and
Accounts
widget for a fresh and clean look that aligns better with the overall style.
Dashboard View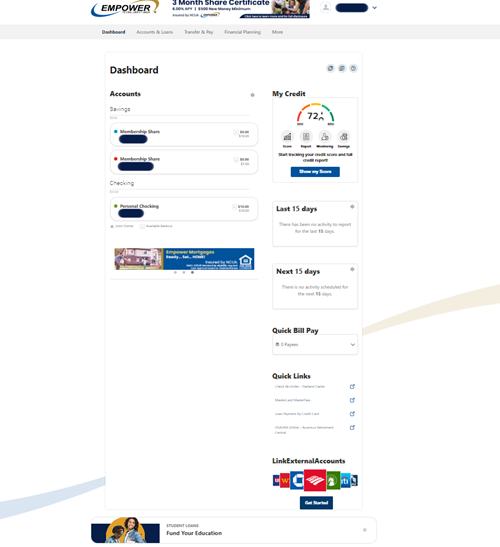 Accounts View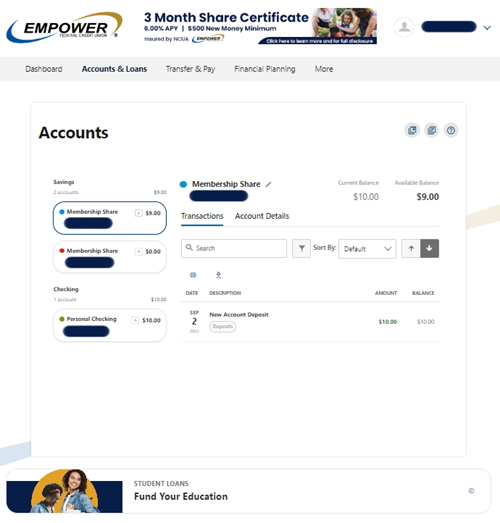 Alkami has slightly changed the Header view on the desktop.
Current Header:


New look of header on desktop, icons have replaced options. Rates and Locations has shifted from the left side of the screen to the right and Search has been removed:

The envelope icon will take the member to their messages: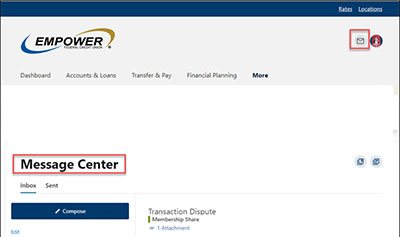 Empower Federal Credit Union is a full-service financial institution serving members throughout New York State.