Wherever you might be at any moment, your money is never very far away.
Some days, you've got a lot of ground to cover. Other days, you have no plans to leave home. In either case, the Empower mobile banking app is a true time-saver. Whenever you have a few minutes to spare, tap into your accounts, manage your money, and move onto everything else on your schedule. Download our app anytime.


Get up-to-date account balances
Transfer funds between accounts
Review transaction histories
Make fast bill and loan payments
Use our app and your mobile device camera to make check deposits from almost anywhere
Link your smartphone to your Empower debit card for easy one-tap payments at shops and restaurants
Receive text alerts that notify you of significant activity on your accounts
Locate an Empower branch or ATM location
To sign up for Empower's mobile banking services, first download the app from Google Play or the App Store and then register it.
Download the App: Download our app, available for android & iOS
Tip for Android: Search "Empower FCU"
Tip for Apple: Search for "Empower Federal Credit Union"
Next: After downloading the Empower mobile app, tap "Register a New Account" towards the bottom of the screen; then, follow the on-screen prompts through the registration process.
You can use your fingerprint to login to the Empower app. With Touch ID, you have a simple, secure way to access Empower accounts using biometric fingerprint authentication technology. It's easy to update your Empower app on a Touch ID-enabled device.* You will be prompted to set up Touch ID (activation steps vary by device). No fingerprint reader? No problem. Set up a PIN for easy access to your account.
Biometric ID:
- Members can use biometric authentication to log into the mobile banking app with their device's biometric capabilities rather than using an online banking username and password.
- The mobile app does not recognize the type of biometric authentication used; it simply receives the results from the device's system.

Biometric Enrollment:
- When members launch the mobile app for the first time, they are prompted to enable biometric authentication. After selecting Turn on Biometric ID, your biometric authentication will be enabled. If the Not right now, option is selected, you can still enable Biometric ID with the app Settings.
- Anyone who has access to the device through Biometric, such as face recognition or fingerprint, can log into the app.

Disable Biometric ID:
- You can disable the use of Biometric ID in the mobile app by navigating to Settings à Biometrics and toggle off the Use Biometric ID setting.
Empower Federal Credit Union is a full-service financial institution serving members throughout New York State.
Empowering you to make the best financial decisions.
Explore valuable tools and education to support your unique financial journey.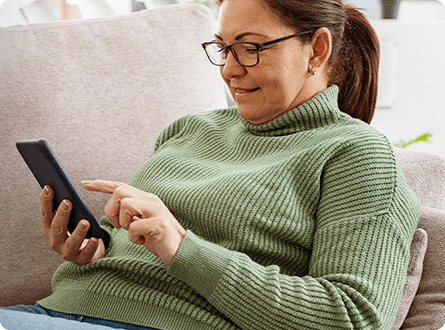 An easier way to pay
Enjoy convenient, secure and contactless payments with digital wallet.
* iOS and Android only. See app store listings for operating system information.

Empower Mobile Banking is available for members with an Empower FCU Account. To use Mobile Banking, you are required to subscribe to a data plan through your wireless provider. Check your plan or contact your wireless provider for additional fees that may apply. iPhone, iPod touch and iPad are registered trademarks of Apple Inc. Android is a trademark of Google Inc.