Your smartphone camera makes it easy to fast-track money into your account.
When you get a check in the mail or on the job, the goal is to turn it into spendable cash as quickly as possible. Thanks to that phone you carry almost everywhere, you can deposit the check from almost anywhere. Just sign the back, capture images of both sides, and use our mobile app to finish the job. As long as you're already enrolled in Online Banking, you're ready to go.
Download the Empower Federal Credit Union app from Google Play or the App Store
Receive an immediate electronic confirmation that your deposit has been received
Funds will generally be available by the third business day after the day of deposit; unlike an ATM or in-branch deposit, the initial $200 is not immediately available
Security safeguards protect your personal and financial data (for safety tips, see section below)
Other mobile devices with cameras, such as tablets, can also be used
Empower Federal Credit Union is a full-service financial institution serving members throughout New York State.
How to Use Mobile Deposit
Log into the mobile app.
Tap "Deposit Check" in the bottom menu.

Tap on "Deposit Account".
Tap to select the account you wish to deposit funds into by tapping it.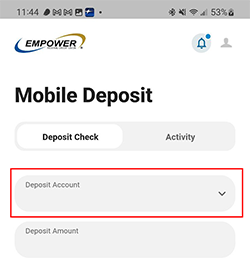 Tap on "Front of Check".
Position front of check in the viewfinder, and tap the circle on the right.
​Do the same for the back of the check.
Remember to sign the check and write "Mobile Deposit Only" under your signature. Signature must be on the right.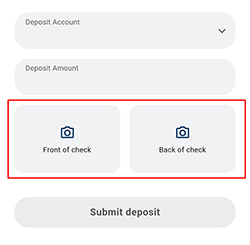 Tap "Deposit Amount" and enter the amount written on the check.
Tap "Submit deposit" to complete deposit.
​You will see a confirmation screen after the check is successfully deposited. Tap "Ok" if you have deposited all of the checks you'd like to deposit.
If you would like to deposit more checks, select "Deposit Another Check" and follow the steps above.
Image quality and safety tips
Use good lighting
Put the check on a simple and flat surface
Make sure you include all four corners of the check in the image
Make sure the picture is in focus
Make sure there are no pen marks or other obstructions to the encoded numbers on the MICR line
DO NOT use public wireless access and computers at libraries, hotels or other public places.
Monitor your account and report any unauthorized or suspicious activity immediately.
Be highly suspicious of any emails or text messages stating you have won a prize or claiming to be from government agencies, tax agencies, financial institutions or other companies asking you to verify account information or online banking credentials.
Use your phone's built-in lock function and set a password-protect for start-up or time-out.
Check your plan or contact your wireless provider for additional fees that may apply.
A. Mobile Check Deposit is a service available to eligible members to conveniently deposit checks directly into your Empower account without going into a branch by using a smartphone or tablet to take a picture of both the front and back sides of the check and submit for deposit.
A. Once you have registered for Online Banking, simply download our Mobile App to access this service.
A. You may use a photo-capable iPhone, iPad, or Android mobile device.
A. No, there is no fee for using this service.
A. You must have a membership open for a minimum of 30 days and must not be in delinquency or default on any loans or accounts at Empower Federal Credit Union.
A. Members and business memberships that are in good standing and enrolled in Online Banking are eligible for this service. Members must be 18 years of age or older to use this service. Some restrictions may apply (see waiting period above).
A. Yes. You can lose the privilege of using Mobile Check Deposit. Empower reserves the right to terminate Mobile Check Deposit privileges at any time.
A. You can make mobile deposits of your checks when it's most convenient for you: 24 hours a day, seven days a week and on holidays. The deposit may not appear deposited into your savings or checking account right away, and/or funds may not be immediately available for withdrawal.
A. You can deposit up to $5,000 per day, not to exceed $20,000 per week or $100,000 per month.
A. There is no limit to the number of checks that can be deposited, but only one check can be deposited per transaction, however you cannot exceed your daily and monthly deposit limits.
A. After you complete your deposit, the transaction is still pending. Go to mobile banking to see the Remote Deposit Activity tab for status. You will also receive an email when the deposit is processed. Deposits will generally be available by the third business day after the day of deposit. Please note: unlike an ATM or in-branch deposit, the initial $225 is not immediately available.
A. Business days do not include Saturdays, Sundays or federal holidays.
A. Deposits made on Saturday, Sunday or Federal holidays are processed as if made on the next business day (i.e., Monday) following the weekend or holiday. Saturdays, Sundays and Federal holidays are not considered business days.
A. Yes. In order for your deposit to be accepted, you will need to properly endorse the back of your check as you would normally do when making a deposit. To properly endorse your check, you must sign your name on the back of the check and write "Mobile Deposit Only" under signature.
A. Go to online banking or the mobile app to confirm the deposit is showing as a credit to your account and is no longer pending. Emails will also be sent to communicate the status of the deposit.
A. You will receive an email stating if your check has been approved or rejected for processing.
A. Mobile deposits may be rejected for a variety of reasons. Some examples include: poor image quality, missing endorsement, information on check is inconsistent, or you reached the maximum daily or monthly deposits limits. Contact us at 800.462.5000 for assistance.
A. Store the deposited item in a secure location for up to 30 days. After that, the check should be shredded and disposed of properly to prevent identity theft or misuse.
A. Foreign items and third party checks will not be accepted. Other exceptions may apply. Acceptance of any checks for deposit is at the discretion of the credit union. An email notification will be sent with rejection reason, if applicable.
Empowering you to make the best financial decisions.
Explore valuable tools and education to support your unique financial journey.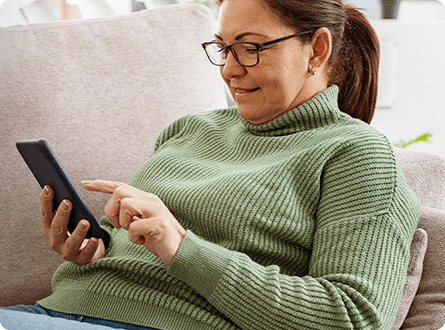 An easier way to pay
Enjoy convenient, secure and contactless payments with digital wallet.