For easier money management, view all your accounts in one convenient place.
Personal finances can be complex. You might have several accounts with Empower FCU, plus additional relationships with other lenders, investment firms and financial institutions. To get a big-picture view, there's no need to flip from one web page to another. With Account Aggregator, you can easily arrange for details of every account to appear on your Empower Online Banking page or mobile app.
All accounts will display under an External Accounts heading when you are logged in
Combine all your savings, checking and investment accounts
Add in your loans - including personal loans, mortgages, lines of credit and credit cards
You will need to have the login credentials for any account you are adding
After you add your accounts, the details and transactions for these accounts are automatically synchronized* each time you log in. (Some financial institutions require additional login or verification to synchronize.)

From the Dashboard
Step 1
Click the Get Started Button: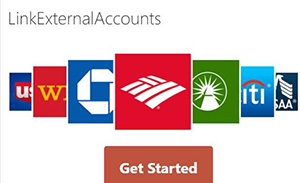 Step 2
Search the Institution Name you are looking to set up.
Follow the prompts for inputting the other Institution's login information.

From Settings
Step 1
Select the Accounts tab from the Settings page.
Click the Link an External Account button.
Settings navigation to Link an External Account
Step 2
Select External Account Type

If you are also able to add ACH external accounts, you may first see the following choices and must select the External view-only account option for account aggregation.

The Add an external account prompt screen will appear.
Select the External view-only account option.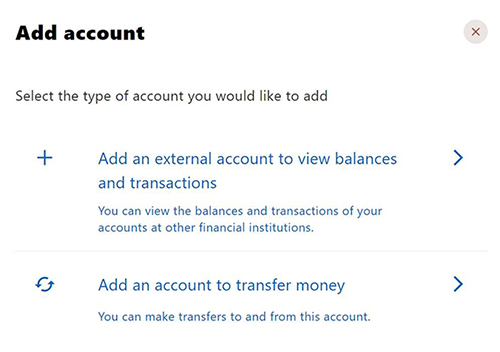 Add an external account prompt screen
Note: This screen only displays if you have ACH enabled
Step 3
If you are a first-time user, you will see an informational screen to guide you through the set-up.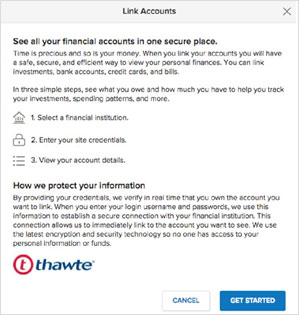 Manage Accounts
Go to settings to change nickname, color code, login credentials and/or delete accounts.


Synchronization
All external aggregated accounts display:
An as of date to indicate how recent account details and transactions are as of the date specified.
A status to indicate any issues which may exist with the external institution, whether an account refresh is in progress, and whether user interaction is required to update account details and transactions.
Account data refreshes when:
You log in to your account
You manually select the Refresh option
Aggregated accounts in the Accounts widget display a Refresh button if:
An account refresh is not currently in progress
The last account refresh occurred more than 15 minutes in the past
If the end user clicks the Refresh button, an Update Accounts prompt screen will appear similar to the Link Account prompt screen that appeared when the user first added the institution. Status information is displayed to the user as account details and transactions are refreshed, and the end user may be prompted to provide their login credentials (for example: the user's password has changed) and/or multi-factor authentication information.

Note: All accounts at the institution will be updated, not just the account selected.
Important: balances and transactions can have up to a 24 hour delay when syncing with Online Banking
Empower Federal Credit Union is a full-service financial institution serving members throughout New York State.
Empowering you to make the best financial decisions.
Explore valuable tools and education to support your unique financial journey.